What makes Cure4CF Unique?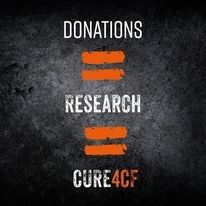 The Cure4CF Foundation (Cure4CF) established in 2009 is part of the global community working to develop a cure for everyone with Cystic Fibrosis (CF).
 In  Australia, we offer a unique approach to fundraising and supporting CF research.
Cure4CF's sole purpose is to fund research that will either cure CF or significantly increase life expectancy. Our priority is for a full lifetime.
What makes us unique is we only fund translational research, which is the type of research with the best chance of making it into the hands of those who need it most, our CF Warriors.
As a single purpose charity, it means that all funds raised are focussed directly towards supporting our research program and annual grant round.

Our research applicants experience applying for funding in a unique way too.  We have a research and commercialisation subcommittee who report directly to the Cure4CF Board of Directors, as well as an external independent research advisory committee.  They are experts in their field and know just the right questions to ask to ensure we are funding the best research across Australia.  All applications for funding are reviewed by both committees who provide their time and expertise freely to ensure the funds raised moves directly into research.
We offer something different for researchers and a new approach to funding research.  We are committed to fostering success. As part of our grant process applicants will be offered feedback with the option to engage in further discussions. As a researcher, when funding is applied for it is often rejected without the chance to understand why the application did not meet the requirements of the funder. At Cure4CF If a researcher applies to our funding round and it isn't funded, we offer the chance to have feedback from the committee and to be linked to areas where the researcher might benefit. We believe offering this service to applicants helps to better inform our research community and enhance future applications.
In 2022, the Federal Government funded more than $240 million dollars in research grants devoted to new and innovative ideas.  This scheme is the National Health and Medical Research Council (NHMRC) Ideas grant round.  In the latest round more than 2000 applications were received and 232 were funded – none of which included CF as a key focus.  Cure4CF's emphasis on only funding CF research ensures there is always a focus on finding cures and therapies that can transform CF.
One of our 2022 grant recipients Dr Jagdev Singh had applied in a previous grant round and used the feedback given, to improve the application and subsequently reapplied and was successful.
Once funded, Cure4CF also work with researchers to support their work by fostering connections with other researchers and supporting their translation pathway. We were excited to recently see some of the team who are part of Dr Singh's program receive further funding from NSW Government to support phage production.  You can read more here. We are excited to know that Dr Singh's research program will benefit from this funding commitment to medical research in NSW and we can't wait to see the outcomes of the project.
"Being a part of the CURE4CF community has been a humbling experience. I have interacted with the donors and the foundation's team, feeling a genuine sense of camaraderie. It's not just about the funding; it's about the connections and the feeling of belonging. I am grateful for this unique opportunity to collaborate with a foundation that sees me as more than just a researcher, but as a part of their team.
The CURE4CF foundation has taught me the value of resilience and the power of support. Their unwavering belief in my potential has continued to fuel a sense of purpose in my work. 
I am honoured to be on this journey with them, knowing that together, we are working towards a brighter future for those affected by cystic fibrosis".
Dr Jagdev Singh 2022 Cure4CF Grant Recipient