Jen's top tips for the early years as a CF parent
Last month I sat down with our newest Community Ambassador Jen to talk about the things she wishes she had known in 2019 when she became a CF parent.
Becoming a CF Parent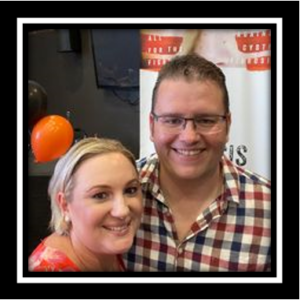 Jen's daughter Aveline was diagnosed with CF in March 2019 as a result of the newborn bloodspot screening which in NSW screens for 28 conditions including CF. In the early months Jen spent time learning about CF and what it would mean for her and her family, it was personal, and she needed time to consider when and how to share this outside of her family.
An important insight I gained from Jen in our discussion was around diagnosis and that it can be difficult for families and friends too. She said when sharing news of the diagnosis, people often don't know what to say. Their response may be surprise or minimisation of the situation. Despite good intentions and curiosity, at times, people may say something that unintentionally causes pain. Even though it's hard, try not to be offended, and remember that despite the fact the CF is the most inherited genetic condition, most people don't' know much about it.
Supporting a newborn is difficult for all parents, and supporting a newborn while learning and managing CF is an additional challenge.  Jen was clear that accepting help is important and understanding that people don't know how to help even though they want to.   Jen suggested if people ask, how they can help, try, and have a few things ready to ask them to do, or perhaps enlist a partner or family member to be the holder of the list and direct people to ask them how they can help.  She said simple tasks like picking up medications from the pharmacy or preparing a meal really eased the stress for her family.
Some other good advice Jen had was to enlist a trusted friend or family member to answer questions and direct people to trusted sources of information. The most trusted source is always your health care team. Working with your allocated geneticist can help you better understand CF. In the early diagnosis stage for Aveline, Jen found a social worker to be a helpful resource and being open to trying out different health services offered by your care team can be a great way to learning more about supports available.
Where to go for support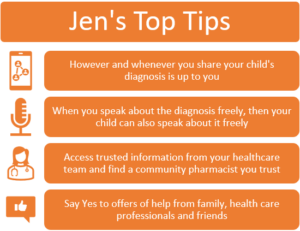 Learning about who is in your care team and how they can support you and your family is a positive way to move forward after the initial diagnosis. Engaging with a trauma informed psychologist can also be helpful to understand and work through the changes you are experiencing as a parent and caregiver.  Jen shared how the day of Aveline's diagnosis is still so vivid for her and that she still clearly remembers the shock and fear she and her husband Leigh experienced which still impacts them. Aveline however will have a different story and experience.  Jen plans to continue to work with her health care team and reach out to a psychologist for support for Aveline if needed.
Of course, you may receive lots of questions and we have all headed to google at some stage for information.  Great places to seek information include the Cystic Fibrosis Foundation page.  This is a USA based page but has lots of helpful information for people curious about CF.  Jen found social media to be a minefield with many views and approaches to supporting people with CF.  Finding her tribe took some time and she enlisted her siblings to help her. They were able to follow relevant social media pages and make recommendations to her as not to be exposed to pages or posts that were distressing.
For Jen and her family COVID-19 meant accessing healthcare was unexpectedly much easier with zoom and telehealth and the community suddenly understanding at last the importance of infection control and use of masks and hand washing.  These were already a big part of the family's life, but always having to explain was exhausting. When Aveline was small, well-meaning people would come up and touch her and try to interact with her.  This was hard and Jen found a sign on the stroller helped to prompt a discussion around why it wasn't ok to just leap in and touch her beautiful baby.
Navigating the first year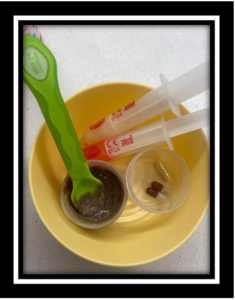 Navigating the first year with all the appointments was the hardest and Jen has found it has become easier over time especially moving from weekly hospital visits to 3-montly visits.  Not only the worry of your child's health but also making your way around a busy hospital and being there for the best part of a day is a big change.  This is also much harder if you are also juggling another child with school drop offs and hospital appointments.  Jen explained that she found her routine and she is really committed to sharing what she has learned with other parents to hopefully make the early days less challenging for them.
Keeping up with daily medications can be exhausting, but the health team supported Jen and Aveline in introducing the daily treatments. Finding creative ways to deliver the vital treatments and adapting this to suit your child and family life is key.
Over time, you will develop a routine that is best suited to you which will in time become like second nature.  Jen found using the décor salad dressing containers for Creon were fantastic and once Aveline could take tablets the medication routine became easier.
Curious about CF gene inheritance?
If you are over 18 and want to know if you are one of the 1 in 25 people who carry a single copy of the you can access screening.  If you want to know more about genetic carrier screening you might like the Good GP Podcast episode on genetic carrier screening.