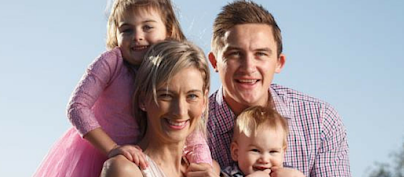 Sometimes you meet people in life and you just think wow, this person is going to have an impact on the world. Emmah Money is one such lady.
Emmah is 28 and living with Cystic Fibrosis (CF). When she was born she was not expected to live beyond her fifth birthday, doctors suggested the lung disease caused by CF would progress quickly and would soon take her life.
But Emmah has proven from an early age that she was going to be someone who would defy the odds against her – a valuable lesson she learnt from her adoptive parent's right from the moment they brought Emmah home and into their family.
When Emmah was younger, during one of her many visits to the Women's and Children's Hospital, her mum Joy introduced her to Associate Professor David Parsons, who heads up the Adelaide research team that Cure4CF supports. Emmah distinctly remembers her mum telling her that he was going to be the man that would one day find a cure for cystic fibrosis, and she has held on to that hope, and memory ever since.
And so began Emmah's pursuit of actively raising awareness and funds for a cure for CF.
Over the years Emmah has lost many of her close friends to the devastating effects of this disease, but this has not diminished her absolute resolve to be part of the cure that she hopes will one day improve and save her life, and the lives of so many others in the community.
And now, Emmah has an even greater reason to work toward that goal – her two beautiful children, three year old Ayvah, meaning breath of life, and little Logan who will turn one in July.
Emmah is very aware that the average life expectancy for someone living with cystic fibrosis is just 38 years, just ten years from her current age. But for someone who has proven they are anything but average, she is doing everything she can to beat these odds as well.
"Now that I am a mother I couldn't imagine leaving this world and my babies behind…I am working so hard every day, behind the scenes to try and maintain my health" says Emmah.
But we do not think Emmah should have to fight for her life, and for a cure for cystic fibrosis alone.
The research team in Adelaide, and other teams right across the globe are doing all that they can to find a cure, but it is a lack of funding that means its development is going to take time. And unfortunately it is time that Emmah, like so many people living with CF, does not have the luxury of counting on.
However this is where you and I can help.
By making a donation of $24 today, you can help take the research we support to cure cystic fibrosis airway disease closer to people like Emmah who are desperately waiting and fighting for a cure.
$24 may not mean a great deal to you, but to the research team we support, this provides for another 30 minutes of vital research time in the laboratory. 30 minutes closer to a potential cure for cystic fibrosis airway disease.
Your gift, of whatever you can afford, will and does make a real difference. Together we can make this possible and I hope you will join Emma and Cure4CF in this journey toward a cure.
To watch Emmah address the Health Plenary – One Young World Summit 2012 click here.
https://heroix.everydayhero.com.au/event/CureCF/donate
Emmah has her own blog and Facebook page where she shares her journey of living with cystic fibrosis – check it out here.